As a Finnish journalist, reporting from Ukraine has been very personal. When I meet Ukrainian refugees, I think of my grandparents fleeing from Soviet Union's invasion during WW2.
When I walk through destroyed villages in Ukraine, I think of the homestead and village in Karelia where my family roots go back centuries. It too was occupied and it's people forced to evacuate.
When nothing but ruins remain of houses in the village of Kutuzivka near Kharkiv, it reminds me of the time I saw the foundations of the house where my grandfather grew up near Vyborg. Only foundations remained. Now those ruins belong to Russia.
I'm not an exception. Similarly, our audience is hooked to our news coverage, because whatever Russia does, it is potentially of existential importance to all of us, to Russia's frontline nations. Or to Russia's neighboring countries, as I would have said until last year. The neighbourly atmosphere is, unsurprisingly, gone.
Nagging questions remain: What if? What if it was us instead? What if it is us next? What if Ukraine loses? A uniform conclusion is that we need to make sure that Ukraine wins. Whatever it takes.
Living next to a grumpy and bitter Russian bear has developed an ethos of preparedness. We have been called a nation of preppers. We don't see ourselves being overly alarmist, but simply using common sense.
Occasionally over the decades it seemed as if Russia could let go of imperialist ambitions, without trying to subjugate its neighbors, but last year was a cruel reminder of the opposite.
Russia has been an unpredictable factor throughout our history. We all have different versions of the same story. This is mine.
When I was six, I used to climb on top of a hill next to my grandparents' new home, just six kilometers away from the Russian border, looking at smokestacks which used to belong to Finland until WW2. I sensed the loss and bitterness of my relatives.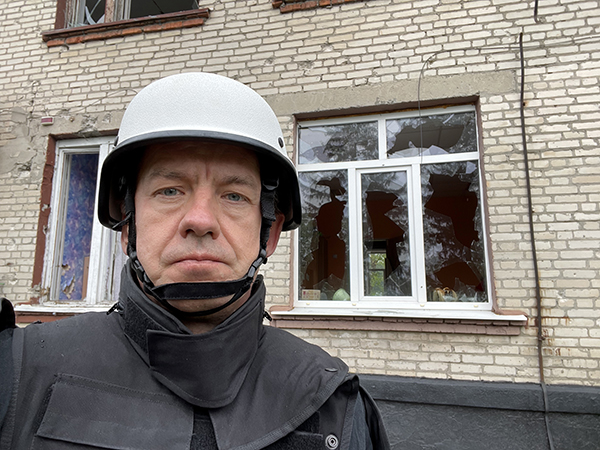 When I was 16, I made an adventurous trip to St. Petersburg. We secretly sold jeans and random Western stuff to Soviets waking up to consumerism. A political wakeup followed. Change was in the air.
When I was 26, I made my first reporting trip as a journalist to a tumultuous Moscow, where a coup d'état against President Boris Yeltsin failed. Queues to McDonald's were longer than to Lenin's Mausoleum, which was a sign of hope. I visited both. Russia looked like a confused teddy bear, much less threatening than before.
When I was 36, I studied some Russian. Vladimir Putin had just become President, but few of us sensed any danger. The prospect of democracy dimmed, but as Russia didn't look like an immediate concern, my professional ambitions focused on the Americas and Asia.
When I was almost 46, I took a ferry to St. Petersburg with my American friends. The bear was grumpier than before. Russia had invaded Georgia, but most of us failed to predict an emerging pattern. Russians bought cabins near my vacation home in Eastern Finland, and they were welcomed.
When I was 56, Russia invaded Ukraine. I have been working harder than ever before, reporting from both Ukraine and on Russia. No more illusions, and barely any hope for improvement as far as can be predicted.
There are over five million variations of this story in Finland. Living next to an aggressive czar, whatever he is called, shapes all of us, whether we like it or not.
Russia's name may change, its rulers eventually change, and its political experiments can swing from extreme left to extreme right, but the country remains. We don't have the luxury of being able to ignore it.
As a result of seeing the ups and downs of Russia, of living a life looking the bear in the eye, a few convictions have emerged that are shared by a majority of Finns.
We can't eliminate the danger that Russia poses to its neighbors, but we can and we must strengthen the defence of those that are most at risk along Russian's borders.
Think of Ukraine, first and foremost – and in journalism, keep your eyes on the ball, on the war. Putin is counting on Western media and public opinion to be inflicted by a collective ADHD, soon losing interest and switching attention to something else. Prove him wrong.
We can't enforce change in Russia, but we can and we have a moral obligation to support people who are willing to risk their lives to promote democracy in Russia.
Think of independent Russian media driven into exile and deprived of income. In journalism, improve channels of information both in and out of Russia. We need to know what's happening there, and Russians desperately need alternatives to Kremlin-driven propaganda.
We can and we should use the economic and other levers that we have to promote a radical positive change in Russia – better for its own people, and better for all of us. Ordinary Russians need to realize that Putin is steering a sinking ship.
In journalism, lower barriers and improve access. Think of how ordinary Russians both inside and outside of Russia could access your fine reporting in the Russian language. Offer a vision of a future, of mutual success – once Russia has first taken responsibility of its actions.
We can and should divest ourselves of Russian energy, to avoid being blackmailed, but we can't shut Russia out from the entire world. On some levels, we need to engage Russia, but it can't mean compromising on our fundamental values.
In journalism, we shouldn't forget that Russia is indeed challenging the entire value system of democratic societies and the rules-based world order. Our audience needs to realize that Russia's challenge extends far beyond Ukraine and any geographical boundaries.
Most importantly, we can't afford to underestimate what is currently at stake. Our history has taught us that aggression must never ever be rewarded.
Appeasement doesn't work. It didn't work with Hitler, and it doesn't work with Putin.
For me all of this means, among other things, that I'll start planning for my next reporting assignment in Ukraine. Whatever risks it involves, it is totally worth it. We and our audience need to retain our focus on what really matters.